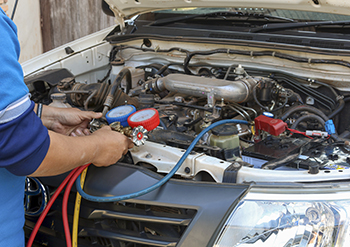 JJ's Auto Care is the number one choice for air conditioning repair in Jacksonville with over two decades of experience in air conditioning repair, service and retrofitting in Duval county. We specialize in R134a system repair found on models 1996 or newer. All air conditioning systems should be serviced every 4-5 years to ensure proper charge and operation.
How does an air conditioning system work?
To get the best performance and life from your air conditioning system, it is highly recommended that you run the air conditioning at least twenty minutes every month, including during the winter months, to keep the seals lubricated and unstuck.
Modern air conditions systems are a lot more complex when compared to those that are fewer than two decades old. These air conditioning systems are controlled by a computer, and as such, a repair should not be attempted except by a professional. We normally find that more damage is done by a non-professional trying to repair their air conditioning system than leaving the car to a professional.
Air conditioning repairs require handling dangerous chemicals that could cause severe damage to your air conditioning system if handled improperly.
Recycle OEM A/C compressors in Jacksonville
An A/C compressor pumps refrigerant through the system, cycling from liquid to gas and back again. If you are finding that your A/C system no longer pumps out cool air this part usually needs to be repaired. If we determine that the part is no longer functional, we may recommend purchasing a new compressor. First, however, we will determine that there are no holes, cracks or leaks in the line causing the lack of pressure. In the event that you purchase a new OEM A/C compressor, we are certified to safely handle and recycle both the refrigerant and the steel components. To keep your compressor in the best condition, make sure to run it at least 10 minutes each month, even during the winter months.