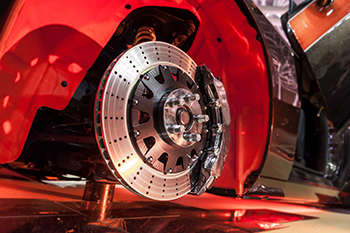 Having your vehicle brought in for any routine brake inspection is a valuable part of general automotive maintenance in Jacksonville, FL.. It could minimize overall costs through the life of your motor vehicle and safeguard your family from a more unsafe driving scenario today. Both your brake line and rotors really should be routinely inspected for wear and damage.
A basic brake service will be different from store-to-store and dealer-to-dealer–certain inspections, nonetheless, are fundamental to any brake repair. Firstly, a repair shop will look at your vehicle's brake pads and brake shoes with respect to signs and symptoms of wear. Next, the mechanic will examine brake fluid levels to determine if they are adequate. The disc brake rotors or brake drums and brake calipers can also be checked out at this point. If your car possesses an anti-lock brake system it'll also be inspected for correct functionality. We propose having your brakes serviced in Jacksonville, FL. one or more times per annum. In case you experience an alteration in drive feel, brake noise or detect burning fluids, make sure you bring in your automobile right away for a brake check in Jacksonville, FL.. Call ahead to schedule with one of our service writers.
Brake repair shop in Jacksonville, FL.
You can help us out, in between your annual brake inspections, by remaining mindful of how your car manages on a fine day as well as taking notice on a bad day. Clear signs of brake wear or failure may be found in several places–for instance, if a brake warning light is on. Perhaps you notice difficulty or absence of pressure when you engage the brakes. This, in particular, requires immediate consideration and should not be ignored. Furthermore, if you notice your brakes squealing you must take note before this noise progresses into a grinding noise. This grinding noise is the noise of irreparable damage to your rotors. You must never drive on worn rotors. Additionally, in case your steering wheel drifts to one side or the other upon braking, or perhaps you realize that your tires are incredibly hot from the friction involved with stopping, let us know. Sense burning fluids? This can be also the result of a malfunctioning or bad master cylinder.
Brake mechanic in Jacksonville, FL.
Even if you are a skilled at home mechanic, a brake repair or brake inspection should be a job that you leave to a brake mechanic in Jacksonville, FL.. You can expect outstanding replacement parts at reasonable rates. We won't sell off a defective or cheaper part simply to meet an insurance provider's demands.