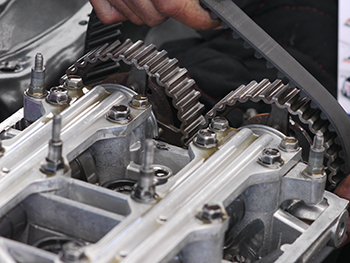 The timing belt on your vehicle may be aptly compared to the percussionist in a marching band. If, for example, your beat is off, it's extremely difficult to hold a tune. This slim piece of rubber sustains the movements of the crankshaft and camshaft in harmony. Synchronizing the combustion process established by the camshaft, the horizontal motions of the pistons and spinning movements of the camshaft. Whenever these don't synchronize, as in the result of a broken belt, pistons (metal materials) meet valves (other metal parts) leading to a huge amount of friction. Heat, as produced by friction, is a vehicle's greatest enemy.
When should I service my timing belt in Jacksonville, FL
Whenever your alignment is off, you'll be aware of it. When your engine is having troubles, you'll hear it. And whenever you're low on fluids, you'll smell it. Nonetheless, when it comes to identifying timing belt wear, a mechanic is required to actually open up the hood, and this requires removing fans, safeguards as well as other parts in order to identify breaks, shredding or slack in the belt. We, in most cases, examine your timing belt every time you come in to JJ's Custom Imports to have an oil change.
Replace a timing belt in Jacksonville, FL
If you comply with your car's regular maintenance schedule, your timing belt really should stay in good condition. Most timing belts will need to be replaced every 4 years or sixty thousand miles. With newer vehicles that extends to one-hundred thousand miles. If you're not sure the last time the belt has been checked and your car meets these milestones, it's far better to go ahead and upgrade. Go ahead and make inquiries at the time you come in to JJ's Custom Imports. Once again, check your car's routine maintenance manual for the manufacturer's suggestions. Here's a check-list of typical indications that your belts need to be replaced:
Glazing, bursting, peeling and softening of belts
Absence of suitable tensioning
Proper drive pulley alignment
Leakages and splits
Hardening, breaking and softening of hose pipes
Loosened or worn clamps
Materials and tools we use when replacing a timing belt include: your new timing belt, a timing light, a timing belt cover gasket set, bolts, pins, a belt tension gauge, and in accordance with the model, a harmonic balancer too. Replacing any one of a vehicle's hardware components should only be attempted by an expert.
Other belts
Belts, like your drive belt, serpentine belt, and fan belt ensure that your engine and engine materials running easily and your automobile working. Hose pipes operate and keep fluids such as coolant, brake, power steering fluid, and windshield washer fluids.
Radiator Hose
Because the radiator is the motor's method of staying cool, keeping your radiator hose in functioning condition is important in your engine's longevity. The extraordinary temperature ranges that the radiator hose is exposed to make it possible for the radiator hose in becoming weak and collapse. This reduces the supply of coolant into the engine and can cause an engine to overheat.