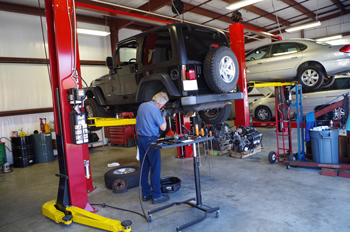 Auto repair in Jacksonville, FL.
Looking for a great technician? Picking the right one is no easy task, and depends on your priorities. Are you more concerned about lifestyle? Or, are you more concerned about price? Some auto repair shops in Jacksonville may try to hustle you. They may try push unnecessary labor costs and/or parts and be disrespectful of these priorities. A great auto repair technician should acknowledge your concerns and offer the best solution that is mindful of your situation. After all, your total satisfaction allows us to create a relationship based on trust. Our integrity depends on it! New customers often discover us on a referral basis. Read our reviews and let our satisfied customers speak for themselves. And remember, all of our work is backed by a 12 month/12,000 mile warranty!
Auto tune up service in Jacksonville, FL.
Brakes
Brake pads have the single purpose of stopping your vehicle. The enormous amount of friction generated by the braking action produces extreme temperatures. Brakes come standard with a wear indicator that alerts you when the brake pads are wearing thin due to the friction involved. If you do not take measures to address this, your brakes will start to grind as the rotor comes in contact with the metal caliper. This is a much more expensive repair. Based on your unique brake type, our shop fixes almost all disc, drum and other widespread rotor brake types.
Oil Change
A rule that is commonly held is as follows: you need to replace your motor oil after 3,000 miles. Even though several automobiles can do up to 6,000 miles without exchanging the motor oil and filter, you have to beware of proceeding doing so if you drive, commute, tow more than the national average or drive often on dirt roads. Without sufficient motor oil, engine components may collide resulting in sudden engine failure or other critical damage being done to the combustion or diesel engine.
Coolant system
Maintaining proper coolant fluids is just as important as maintaining proper motor oil levels. If your thermostat gauge is in the upper range, seems not to be working at all or you smell burning fluids, then it's time and to get your vehicle into JJ's Auto Care so that we can preserve, or if need be, restore the coolant system.
Ignition repair
Ideally, when you turn your key your ignition pulls power from the battery to turn over the engine. The engine then provides power to the alternator. If the vehicle won't start, there might be a problem with the ignition system.