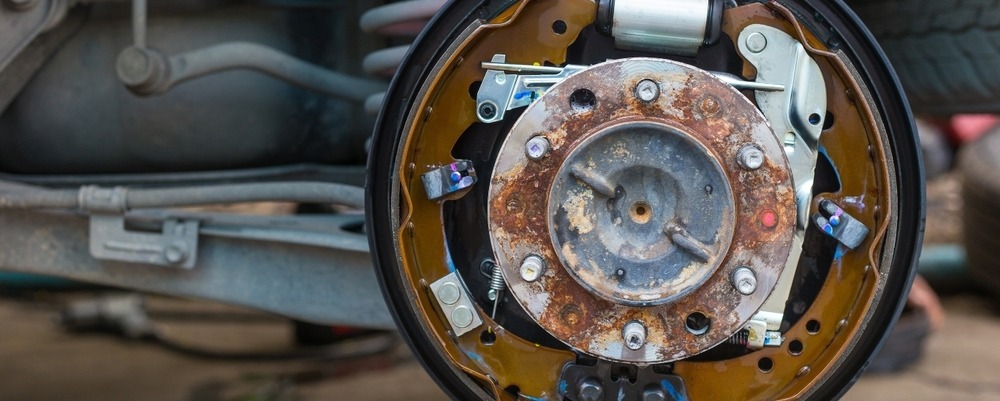 08 May

Does your Car Need Drum Brake Service and Repair?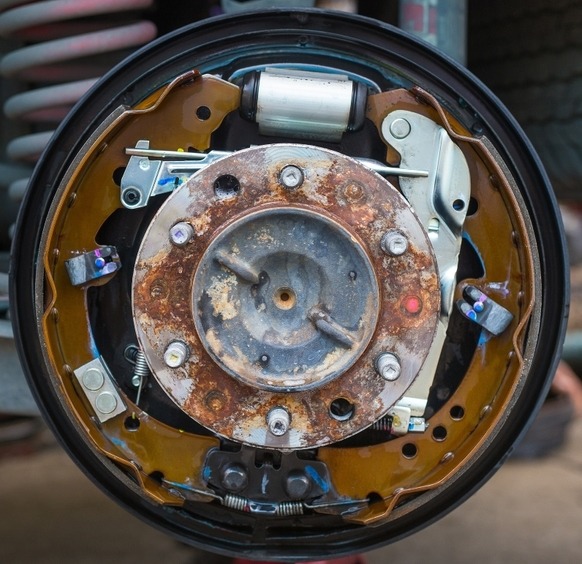 Knowing who to trust with your auto repairs can be stressful. Researching local auto repair shops is often time-consuming. And we all know the pressure of finding knowledgeable technicians that provide quality service at an affordable price. Let's break down the process if your vehicle is experiencing issues with its drum brakes. This blog will review how drum brakes work and identify essential drum brake components, including the brake shoes. Plus, we will address common issues with drum brakes and what drum brake service & maintenance should include. Finally, we will recommend where to find reliable auto repair in Jacksonville, Florida.
How Drum Brakes Work
The drum brake system was the first in-wheel braking system used in passenger vehicles. It was designed around 1899 and patented in 1902 by the engineer Louis Renault. The first versions of drum brakes used levers to operate and were completely mechanical. Later versions of the drum brake system utilize hydraulic pressure.
Many modern vehicles come equipped with both disc and drum brakes. It is common to have disk brakes in the front and drum brakes in the rear. Older and smaller vehicles may come equipped with drum brakes on all four wheels.
Drum Brake Components
Vehicles may use minor variations or combinations of these basic components in their drum braking systems. Below is a list of common parts and a brief description of what they do.
Automatic adjuster: The adjuster automatically keeps a consistent gap between the drum and the brake shoes.
Brake Drum: The drum is connected to the wheel hub and spins with the wheel. It is usually cast iron and is resistant to high temperatures and wear.
Brake Fluid: Brake fluid is a specific type of hydraulic fluid with a very high boiling point used in hydraulic braking systems.
Brake Shoes – Primary and Secondary: The brake shoes rub against the brake drum to reduce the vehicle's speed. Each drum brake includes a primary shoe towards the front of the vehicle and a secondary shoe towards the rear. They may be lined with organic or metallic elements and are designed to wear down with use.
Master Cylinder: The master cylinder converts the force pushed on the brake pedal into hydraulic pressure. This pressure stops the vehicle through friction against the wheel hubs.
Wheel Cylinder: There is one cylinder per wheel, each containing two pistons (one at each end). The wheel cylinder applies pressure to the pistons, pushing the brake shoes onto the brake drum, creating friction. This friction slows down and eventually stops the vehicle.
Common Issues With Drum Brakes
It is important to remember that even if you do everything right, your vehicle's brakes will eventually need service. Some parts will wear out with use and need replacing. Most components are extremely durable and designed to last a long time. However, things like road debris, collisions, and weather conditions may cause issues that need attention outside the regular service intervals. Here are a few things to watch out for:
Brake Indicator Light
Bring your vehicle in for a diagnostic service if the brake warning light in your dashboard turns on. You may have low brake fluid or a mechanical issue.
Old Brake Fluid
Over time, Glycol-ether type brake fluid absorbs moisture from the air because it is hygroscopic. This moisture lowers the boiling point of the brake fluid so it can burn or vaporize more easily, reducing the effectiveness of your brakes. Old brake fluid becomes corrosive to the other brake components. Under these circumstances, your technician will flush out the old brake fluid and replace it with fresh brake fluid.
Noisy Brakes
When applying the brakes, a squealing or grinding noise means you need to replace the brake pads and may indicate bigger issues, like a worn brake drum. Schedule a brake service to fix the problem as soon as possible.
Soft or Mushy Brake Pedal
The brake pedal should feel firm but not hard when you press it with your foot. If the pedal feels soft or goes to the floor without slowing your car, air may be in your brake line. Other possibilities include the following:
Low or burned brake fluid
Bad wheel bearings
A faulty valve
A worn master cylinder
Vibrating Brake Pedal
A vibrating, shuddering, or pulsating brake pedal is a symptom of a worn or rusty brake drum.
Worn Brake Shoes
Brake shoes wear down through friction whenever the brake pedal is engaged. They generally require replacement every 30,000 – 65,000 miles. Read your owner's manual to find the recommended replacement interval for your car.
Drum Brake Service & Maintenance
Drum brake service & maintenance intervals vary among different automobile makes and models. Adhering to a regular maintenance routine is one of the best ways to keep your vehicle safe. A good rule of thumb is to follow the recommendations found in your vehicle's owner's manual. When it is time for a service, your auto technician should perform a detailed visual inspection of all the components in your vehicle's drum braking system. This should include the following:
Inspecting brake pads & shoes and cleaning or replacing them when necessary
Checking brake fluid levels and replacing old burned fluid
Looking for leaks in the system
Examining all the drum brake components for wear, damage, and corrosion
Submitting a detailed report of necessary repairs and part replacements with estimated costs
Quality Auto Repair in Jacksonville, FL
Since 1991, JJ's Auto Care, a family-owned and operated company, has been Jacksonville's top auto repair facility. We are proud to be the only shop in Jacksonville to earn the Blue Seal of Excellence by the Automotive Service Excellence. You can count on us to provide quality assistance for all of your brake service and maintenance needs.
Schedule Drum Brake Service
Call us at (904) 721-6646 or visit us online to schedule a drum brake service with one of our service writers.
Check Out Our Reviews
Our customers love our service but don't take our word for it, check out our stellar reviews! Visit JJ's Auto Care because of our impeccable reputation… come back because of our friendly service, quality repairs, and affordable prices.